Healthy dark chocolate cake & fudge frosting… Words you never thought you'd hear together! 😀 I was not planning to post this recipe, but it turned out SO GOOD! I had to share!
I try to avoid processed sugar and wheat, so finding a truly delicious and decadent dessert recipe with those standards can be pretty difficult!
Especially when it comes to frosting. I love a good buttercream or cream cheese frosting, but as anyone who has made frosting knows, it requires a TON of confectioners sugar! As I shared in my blog post about doing an elimination diet, confectioners sugar gives me a sharp headache almost every time I consume it. Farewell to the days of puppy chow, whipped frostings, and almost every tasty holiday treat! 🙁
This dark chocolate cake & fudge frosting recipe is a fabulous dessert option during holidays, birthday parties, and special occasions. Best of all? No guilt or sugar-induced headaches!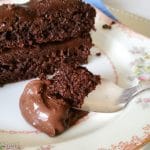 Print Recipe
Healthy Dark Chocolate Cake & Fudge Frosting
Ingredients
1 3/4

Cups

Gluten-Free Oat Flour

or grind oatmeal in food processor until fine flour develops

1/3

Cup

Vanilla or Chocolate Protein Powder

or substitute 1 tsp Xanthan Gum, 1/4 c Potato or Corn Starch, & 1/4 c Additional Oat Flour

3/4

Cup

Cocoa

2

tsp

Baking Soda

1

tsp

Baking Powder

1

tsp

Salt

2

Eggs

1

Cup

Soured Milk or Buttermilk

I use unsweetened plain almond milk, sour milk by adding 2 Tbsp White Vinegar

1

Cup

Strong Black Coffee

or 2 tsp instant coffee plus 1 cup boiling water

12

Dates

pitted

1/2

Cup

Canola or Coconut Oil

melted

2

tsp

Vanilla Extract
Frosting:
4

Dates

pitted

1/2

Cup

Creamy Natural Cashew Butter

or nut butter of choice, using peanut butter will provide a nice peanut butter chocolate flavor

1/4

Cup

Cocoa Powder

1/8

tsp

Salt

1

tsp

Vanilla Extract

1

tsp

Honey or Maple Syrup

Plain

unsweetened Almond Milk, as needed
Instructions
Preheat oven to 350f. Grease 2 9″ round pans, or 12 lined cupcake tins, with coconut oil.

In small sauce pan, boil 1 cup coffee. Chop pitted dates and add to boiling coffee. Remove from heat and allow dates to soak in the coffee for at least 10 minutes while preparing the remaining cake ingredients.

In medium bowl (or electric stand mixer bowl), add the Oat Flour, Protein Powder (or substitute ingredients), Cocoa, Baking Soda, Baking Powder, and Salt. Whisk thoroughly until well combined.

Add soured Milk (or buttermilk), Oil, and Vanilla extract. Mix for a few minutes until combined.

Add eggs one at a time, whisking thoroughly after each, until smooth batter forms.

Using an immersion blender or a smoothie blender, puree the coffee/date mixture until dates are smooth. Gradually pour this coffee and date mixture into the cake batter, mixing until silky smooth.

Pour cake batter into prepared and greased cake pans.

Bake cakes for 30-40 minutes (or 20-25 minutes for cupcakes) until done and inserted toothpick comes out clean.

Cool in cake pans for 5-10 minutes before removing from pans to finish cooling on cooling racks.
Frosting:
Chop pitted dates in small bowl and cover with boiling water. Allow to soak for at least 10 minutes until softened.

In food processor or smoothie blender, puree the softened dates, honey or maple, vanilla, and nut butter. Add 1-2 tablespoon of almond milk if needed to obtain smooth mixture.

In small bowl, blend the date/nut butter mixture with cocoa powder and salt.

Add almond milk or cocoa powder as needed to create frosting consistency.
Discovering recipes like this one gives me hope!! 🙂 It is actually possible to indulge in my love for baking (and dark chocolate) without compromising my health during the holidays or parties!
There are so many possibilities with this healthy dark chocolate cake & fudge frosting recipe! If you'd like to get fancier, you can try
Adding toasted pecans for a "Turtle" twist
Toasted coconut flakes
Chocolate chunks or peanut butter swirled into the cake
For an "adult" dark Bourbon infused flavor, try adding a Tablespoon of Bourbon with the coffee
If you loved this healthy dark chocolate cake & fudge frosting recipe, you may also be interested in my recipes for delicious Gluten Free Double Chocolate Banana Bread and my go-to Double Chocolate Protein Cookies for Two! For those double-the-chocolate kind of days… 😉
Bon Appetit!
XOXO Abigail