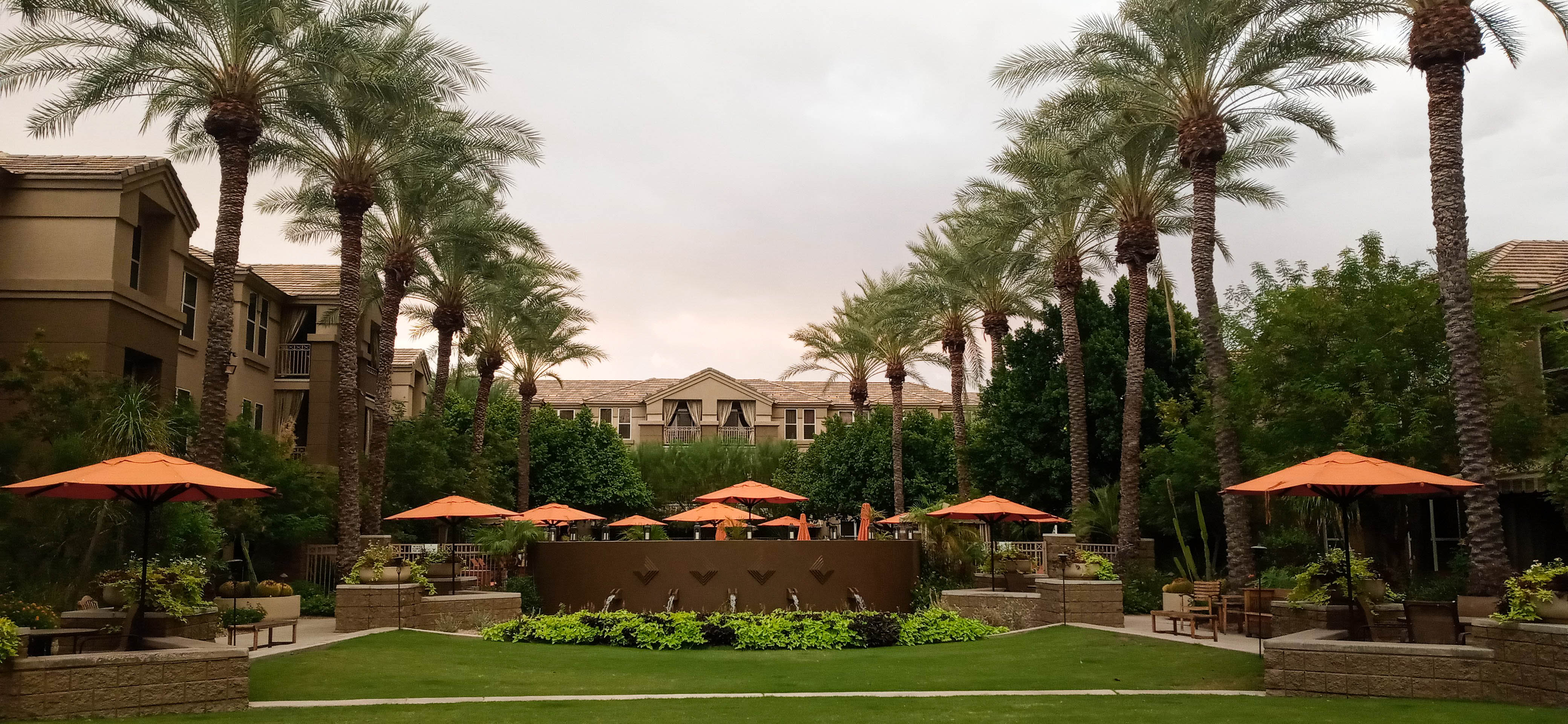 Today we're sharing our top tips for first-time visitors to Phoenix Arizona- and why it is definitely worth visiting!
The first time that we visited Arizona we knew almost nothing about the region- and, yet, we had a fantastic trip and fell in love with Arizona! The hospitable people, complex natural beauty of its different regions, beautiful poolside resorts, and the plethora of activities made for a perfect getaway.
We stumbled into our first Arizona getaway thanks to a hurricane that hit the beaches of Florida on the exact day that we had hoped to do the same…
Hence, in a matter of moments we had switched our flights from the hurricane epicenter to the one-and-only… Phoenix, Arizona!

NO REGRETS 🙂
The term "sunny" is an understatement. The heat index was hitting record highs, and there were incessant heat advisories- but we remained undaunted! We slathered on sunscreen, donned hats, and re-filled our large water thermos.
Travel Seasons:
We soon learned that the "peak season" for visiting Arizona is during the moderate months between October-March, when you can enjoy the sunny and moderate temps in leisure, with low humidity and cool nights.
We first visited Phoenix, Arizona, during the peak of the Summer- during the time that most people avoid desert climates; and yet we still had a FABULOUS trip.
Here are a few tips if you plan to visit during the Summer season:
Schedule around the heat: the dry desert heat is no joke. People die needlessly every year due to dehydration and other heat-related complications, so be smart. Avoid scheduling hikes or outdoor activities during the heat of the day. Alternatively, try to schedule your luncheon, pool time (in the water or under a cabana, not sun bathing), take a nap, read a book, book a massage, or schedule other indoor or shaded leisure activities during the heat of the day.
Focus on hydration: hydrate, hydrate, hydrate… Make drinking water your new favorite activity! One of the first things we did when we arrived in Arizona was to purchase a large insulated water bottle. If you visit Phoenix during the Summer, I can't emphasize the importance of this and the first tip (scheduling around the heat) enough.
Dress the part: sunscreen, hats, sun glasses, and lightweight breathable clothing are all essentials for a pleasant Summer in Arizona.
In summary, the prime season to visit Arizona is during the Fall, Winter, or Spring. If you choose to visit during the Summer months, just remember to follow heat safety guidelines to stay safe & have a great time!
Lodging
If you decide to stay in Phoenix proper, I'd consider staying at a resort such as the JW Marriott for all the amenities of a resort and spa at a more reasonable rate with close proximity to the city. There are many boutique desert-scape resorts and spas that provide a more exclusive luxurious experience, such as this one at Sanctuary Camelback Mountain, as well as more mainstream hotels and lodging options. There's somewhere for everyone!
We decided to stay in Scottsdale, an upscale suburb on the north side of Phoenix. Scottsdale offers a plethora of restaurants, lodging options, and nightlife. We booked a suite at Sonesta Suites Scottsdale at Gainey Ranch for our last-minute Arizona getaway and we loved it!
The amenities at Gainey Ranch were excellent, with extremely comfortable suites that included a spacious kitchenette with breakfast bar, and private balconies (upon request). The pool and courtyard garden were perfection, and the staff went above-and-beyond to ensure that we had everything we might need- including a daily happy hour and breakfast!
We highly recommend staying in the Scottsdale area for first-time visitors. Being on the north side of Phoenix allowed us to take day-trips to Sedona, Flagstaff, and even the Grand Canyon, more easily- while enjoying the amenities of Scottsdale and greater Phoenix.
Phoenix and Scottsdale abound with hotels, resorts, and spas, so you should have a plethora of options to find the perfect spot that best suits your travel priorities.
Day Trips from Phoenix AZ
If possible, you should definitely make the 1.5 hour drive north to Sedona for at least one day. Our recommended route would be Scottsdale to Sedona, Sedona to the Southern entrance of the Grand Canyon, the Grand Canyon to Flagstaff, then back to Scottsdale.
The terrain changes rapidly as you drive north, making the drive an experience in and of itself. There are several unforgettable lookout points and hikes in this region.
We went on a helicopter tour with Sedona Air Tours and it was gorgeous. There are many tour companies to choose from, so look for special deals in Sedona and online to check for seasonal discounts.
Flagstaff is also a cool area near Sedona, less than 2 hours from Scottsdale. You can take a return route through Flagstaff coming back from the Grand Canyon if you want to do all three of these beautiful regions.
The Grand Canyon was amazing (there's just not a better word for it!), so make sure you make time to visit the southern lookout if you've never experienced its' wonder. There are many options to experience the beauty of the canyon (from hikes to flights to horseback rides), however you can also simply enjoy the view from the rim- even if you don't have more time to spend exploring.
We stopped in Sedona on our way to the Canyon, and then stopped in Flagstaff on our way back to Scottsdale. If you have the time to do so, spend a night in each of these cities so that you can relax and soak up the beauty, but if you're tight on time you can also do this in a day – but be prepared for a very full day!
Food
There is no shortage of dining options in the Scottsdale and Phoenix area. These were a few of our favorites:
Mediterranean Cuisine– check out Olive & Ivy for a charming atmosphere and elegant dining experience or visit the Pita Jungle for a fast, fun, and delicious meal.
Burgers & Sandwiches– whether you're gluten-free, vegetarian or vegan, there's something for you at Hopdoddy Burger Bar. You may also want to check out Burger Therapy for American fare with local flair.
Gelato Shops! There were many fabulous gelato shops sprinkled around Phoenix and Scottsdale, so you are never far away from a refreshing treat.
Activities
Shopping- if you enjoy shopping, then you will have no shortage of options. Local artisans for art, jewelry, glass, furniture, clothing, leatherwork- and so much more- have shops in Scottsdale and Sedona.
Golf- you're in luck if you enjoy a good golf game, because golf is a very popular sport in the greater Phoenix/Scottsdale area. Many resorts offer golf course access as well as pools, restaurants, and spas.
Air Tours- We went on a gorgeous sunrise hot air balloon ride with the Rainbow Ryders team and enjoyed a helicopter tour of Sedona on a day trip to the region. We'd highly recommend both of these adventures if you're able! The hot air balloon moves at a more graceful pace, allowing you to soak up the magical vistas, whereas the helicopter tour is much faster but you get to see the mountains in more detail… Both are wonderful bucketlist-worthy experiences!
Hikes-
We enjoyed so many beautiful hikes, including the Cookstove lookout, the airport Mesa lookout and hike, court house vista, and Munds Wagon Trail (very cool views and several hiking path options.)
This blog offers some great tips for Sedona hikes and vistas- so check it out if you enjoy hiking!
Note: It is popular for tourists to rent "pink jeep tours" and similar ATV tours, but we just drove around and hiked by ourselves. You can go all the same places, but if you'd like a guided tour, one if those tours would be a good way to see everything too.
Spa Day- There are many great spas to get a massages and spa treatments. We enjoyed a couples massage before flying home and we had no shortage of options in the Scottsdale area- however they can book up fast, so schedule in advance if possible.
Travel Deals- Check for seasonal discounts and deals for lodging, flights, and activities through AAA, your credit card company, and travel sites such as Travelocity, Airbnb, and Groupon. I got a great deal on our rental car via AAA and cheap flights via Allegiant.
We hope you enjoyed these travel tips!
Happy travels-
"Dabby"
Want more travel tips? Check out our top tips for packing light to make the most of your adventures!