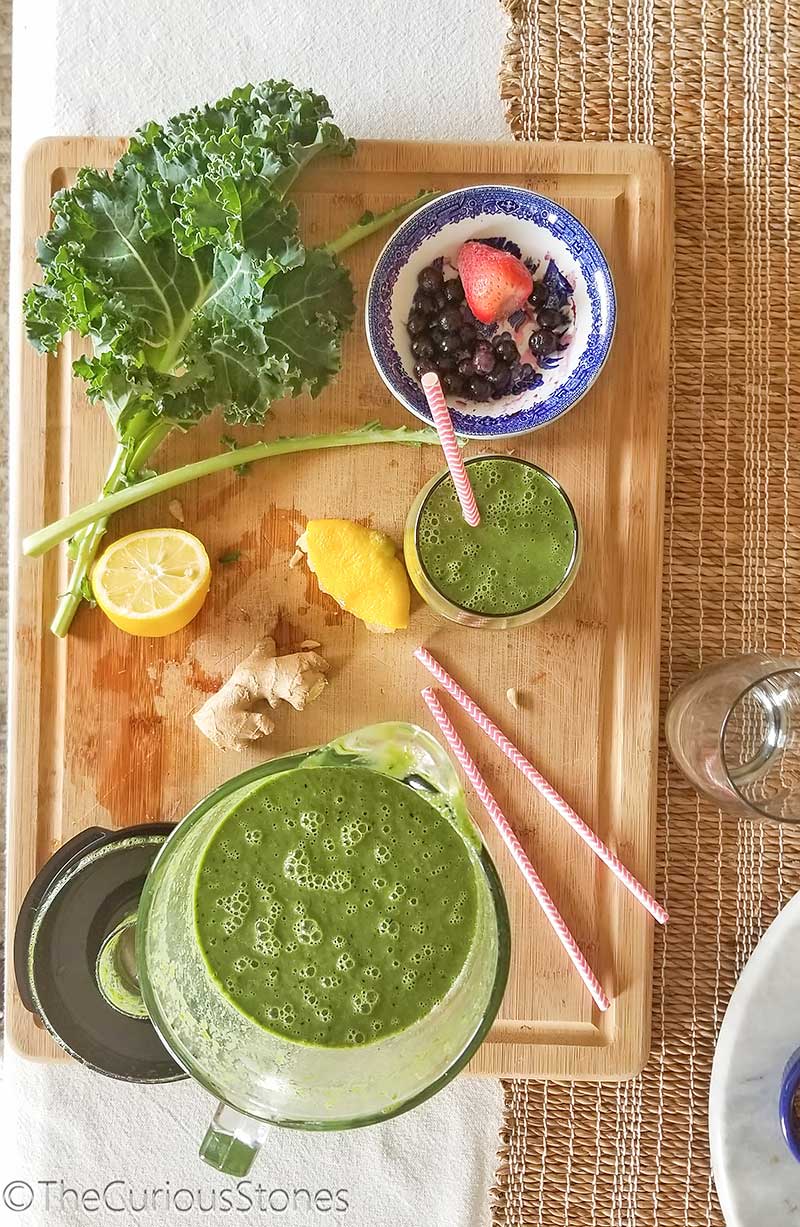 This immune boosting green smoothie packs a seriously good punch when it comes to micro-nutrients, vitamins, and antioxidants! We try to make this the first thing that we consume every day to give our bodies the building blocks that it needs! Who doesn't want improved health and energy, boosted immune system, and reduced inflammation?!*
Click Here to Jump to Recipe!
*DISCLAIMER: I AM NOT A DOCTOR. ALL RESEARCH IS CITED ACCORDINGLY; ALL OTHER STATEMENTS ARE MY OPINIONS BASED ON MY EXPERIENCE. SPEAK TO YOUR MEDICAL PROFESSIONAL REGARDING ANY CHANGES OR HEALTH RELATED QUESTIONS.

-The Curious Stones
I was first convinced to try incorporating this micro-dense green smoothie into my daily routine after listening to a few interviews with Dr. Brooke Goldner, the author of "Goodbye Lupus" and many other articles and books on the topic of autoimmune diseases and overall health and healing. I highly recommend taking a moment to check out her resources! 🙂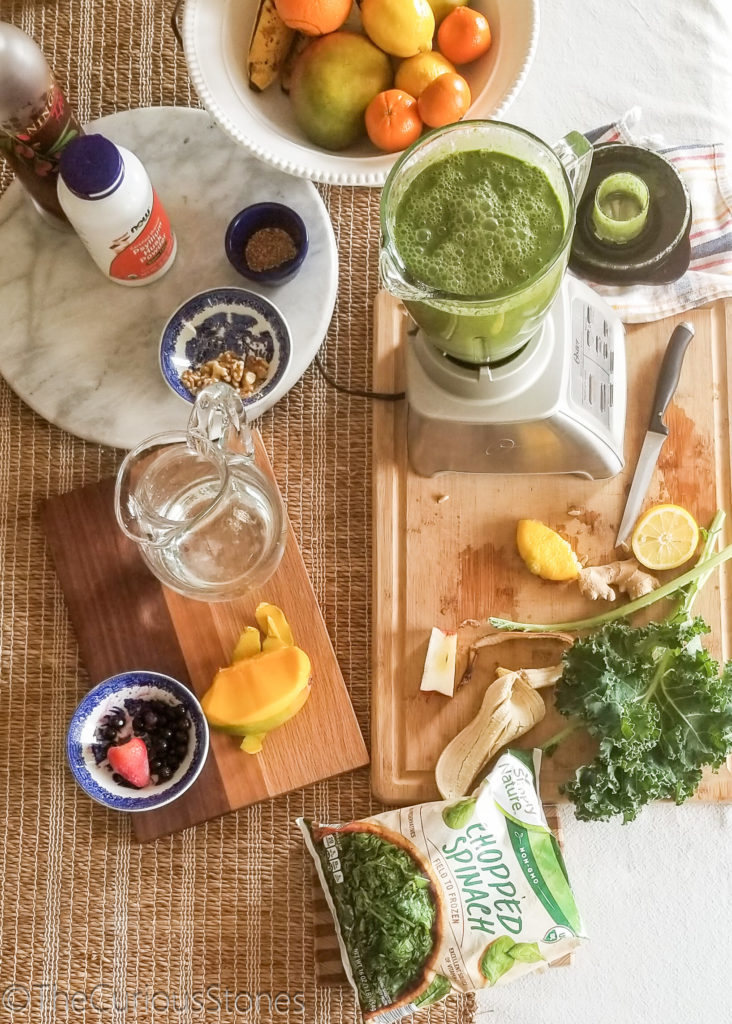 A little back story: My grandmother died young from Lupus, and we've had multiple close friends who've been diagnosed with autoimmune disorders in the "prime of their lives"… so when I hear of natural ways to increase my body's ability to fight disease, lower inflammation, and boost my health- I listen up! And I'm always looking for ways to get extra veggies in my diet, so this smoothie routine is "win-win" in my book!
Immune Boosting Green Smoothie!
This immune boosting green smoothie is a great way to start, fuel, or end your day! Our favorite time is first thing in the morning, or before your first meal. This way we know that we've provided our bodies with powerful, key nutrients to energize and "arm" ourselves at a cellular level against any internal or external attacks.
It's also worth mentioning that if you do have an autoimmune diagnosis, Dr. Goldner has developed a much more intensive and structured protocol for creating better health. You can see her group and individual programs on her website for more information! 🙂
Whatever fruit flavors you choose -These are the 3 principles to remember!
#1 – MEGA GREEN: Squeeze tons of dark greens into the first 75-80% of your blender- pressing it down and adding more if you can!! These green smoothies contain 2-3x the amount of greens that our average lunch salad would contain – each! Choose high quality, nutrient dense fresh greens and then rinse and press them down into your blender, you don't want lots of air in between your greens like a fluffy salad tosser…. this smoothie means serious green business!
#2 – WATER: Add clean, fresh wonderful water just above the level of your packed down greens! This is not a smoothie recipe that uses milks or juices- you want to allow your body to absorb all the necessary nutrients provided by the fresh veggies and fruit- and to do this you need water. (we use a reverse osmosis filtering system for our water to avoid some of the harmful chemicals found in our region – check your water quality at ewg.org!
#3 – OMEGA 3 IS KEY: You need these! In order for your body to make the most of the nutrients found in this immune boosting green smoothie, add a big handful of whole flax seeds, walnuts, or chia seeds- or all three! These are a powerhouse combined with the vitamins, minerals, and antioxidants of this abundant smoothie! Add your choice of fruit to flavor and then blitz!
Check out the "dirty dozen" guidelines provided by the EWG to help you determine which vegetables and fruits are most important to buy organic, so that you're not consuming a glass full of pesticides and chemicals too! 🙂 Check your region's water cleanliness rating on EWG too! This was eye-opening for Dave and I … you may want to consider a water filtration system!
_______________________
Print Recipe
Immune Boosting Green Smoothie
Nutrient packed green smoothie that boosts immune system!
Ingredients
Kale

Organic*, enough to fill your blender!

Spinach

Organic*, 1-2 cups

Ginger Root

fresh (Organic*)

Flax Seeds or Chia Seeds

whole unground

Walnuts

Psyllium Husk Powder

½

Lemon

Juiced

Ningxia Antioxidant Drink

optional

Fruit Of Choice*

We use: For 1 large blender-full 1 banana, ⅓ cup organic mango, organic 1/2 apple, ¼ cup organic blueberries and 1-2 organic strawberries
Instructions
Fill blender with kale and spinach (or greens of choice) until ¾ full, pressed down- NOT loose and airy!

Add fruit, ginger root, psyllium husk powder, and nuts and seeds to the top ¼ of blender

Fill with clean drinking water until water level is above the greens

Finally, add 1-2 ounces of Ningxia Antioxidant (if desired) and by squeezing the juice of ½ of a fresh lemon into the blender! Add extra lemon if desired- it really helps cut down on the "grassy" taste of the greens and allows the fruit to pop!
Notes
Try to drink the entire smoothie shortly after making in order to absorb maximum benefits of the freshly ground seeds and veggies!

Add additional water to thin if it's thicker than you prefer!

See the "3 basic principles" and my notes about fiber and antioxidants in blog post!
For more information about Ningxia check out this young living page!
Fiber: I choose to add a little extra fiber in our smoothies by adding a bit of Psyllium Husk- it's flavorless and helps with fiber intake! (although it will thicken your smoothie if you put too much or let it sit too long, so a little goes a long way!) … this fiber boost helps keep our bodies "moving" (ya know) and keeps us full longer!
Antioxidants: This smoothie is naturally packed with antioxidants- especially if you add berries for the fruit portion! However, since we already try to take an ounce each of Young Living's Ningxia antioxidant beverage daily, we simply add a little to our daily smoothie instead of taking it separately! For information on trying some of Young Living's products, like the Ningxia antioxidant drink used in this recipe, click this link!
Share your favorite immune boosting tips and smoothie flavors in the comments! And check out our recipe for "throat tea" and immune boosting tips for the winter!
_________________
Cheers to a healthy, happy, very green day! 😉
XOXO Abigail