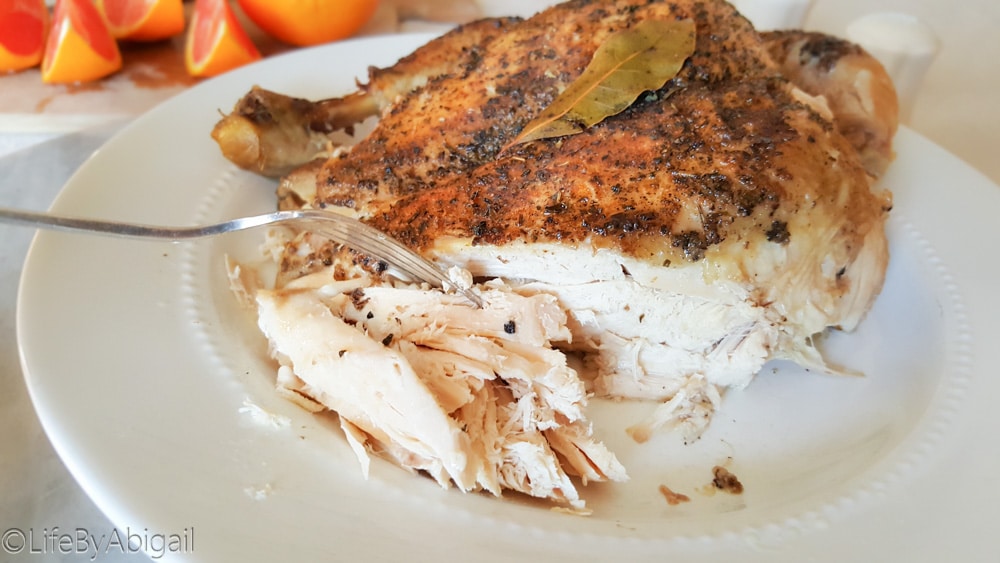 Rotisserie Style Slow Cooker Chicken is one of my favorite ways to cook a whole chicken because it's so easy and fast to prepare!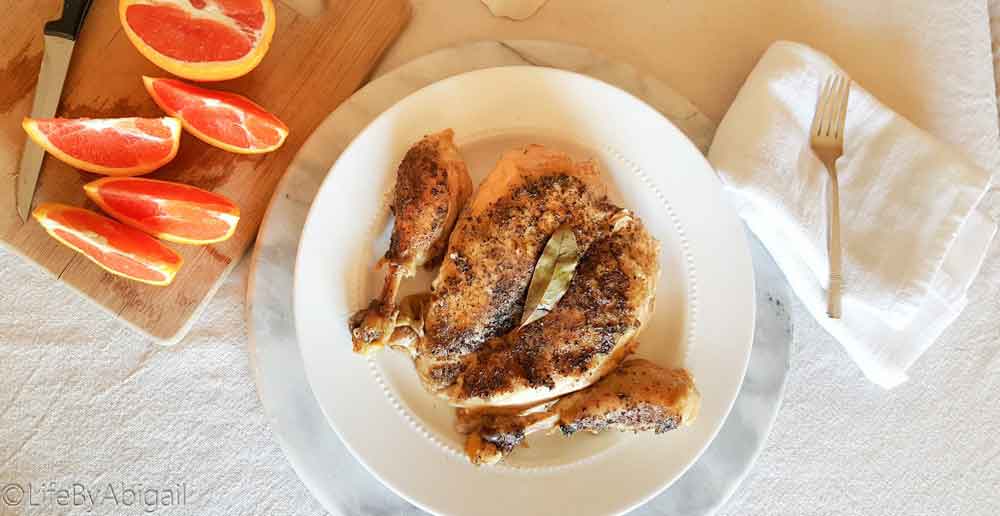 This is a "prep & leave" recipe, requiring just a few minutes of prep and then you can leave the slow cooker to do its magic!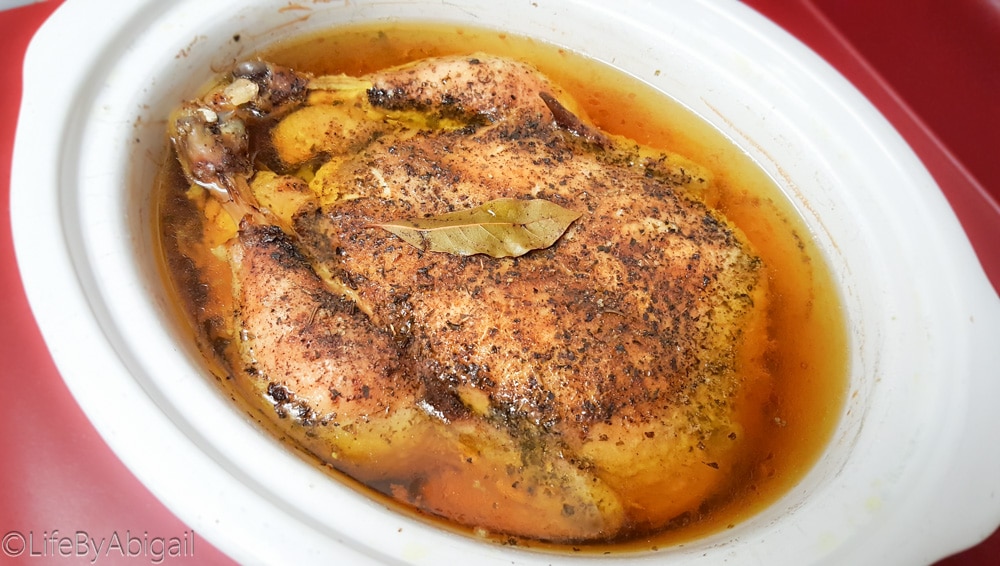 I usually prep the chicken in the morning before leaving for work, (or the night before, refrigerating it over night) so that I can just pop it in the slow cooker before leaving the house! I return home to an aromatic kitchen and delicious rotisserie style chicken ready for dinner! 🙂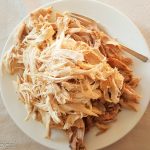 Print Recipe
Rotisserie Style Slow Cooker Chicken
Ingredients
1

whole chicken

a 6lb chicken fit perfectly in my traditional medium sized crockpot

1

Large Onion

or 2 small

4

Cloves

of garlic

chopped in half

2

Bay Leaves

1

Lemon

optional, if you like lemon pepper rotisserie chicken

1-2

cups

water or chicken broth

Cayenne Pepper Powder

about ¼ tsp

Garlic Powder

about 2 tsp

Italian Seasoning

about 1 tsp

Freshly ground Himalayan Sea Salt

about 2 tsp, or to taste

Freshly ground Black Pepper

about 2 tsp, or to taste
Instructions
Chop half of large onion, or 1 small onion, into 1" thick rounds. Arrange rounds in the bottom of the crockpot to create a "bed" for the chicken to sit on.

Sit chicken on food safe surface or cookie sheet with sides to catch any liquids. Dispose of wrapper and any giblet packet that may be inside the chicken cavity.

Stuff chicken with remaining onion (chopped in large chunks), garlic cloves, and 1 large bay leaf.

Squeeze fresh lemon juice over chicken and then place the lemon rind inside the chicken with the onions, garlic, and bay leaf.

Cover entire chicken with freshly ground salt and pepper, garlic powder, Italian seasoning, and a light dusting of cayenne. For a more robust flavor, rub some of the seasoning underneath the skin so that it will absorb into the meat while the chicken roasts.

Place seasoned and stuffed chicken on bed of onions in crockpot. The chicken will hold the onion rings down when you add liquid, otherwise they would float off the bottom surface.

Being careful not to pour on the chicken, add your water or chicken broth to the crockpot until 1-2" deep of water lines bottom. You do not want too much liquid. I only use 1 to 1 ½ cups of liquid in my crockpot.

Place a bay leaf on top of chicken and cover securely with lid. Cook on Medium-High for 6-7 hours or until tender and no pink flesh or red juices are visible when tested with fork. For longer cook time, set slow cooker to low for 8+ hours. Chicken will be very tender and fall off the bone easily.

Using pot holders, carefully pour off liquid into a bowl covered with a strainer to use for a chicken stock later (

see this recipe for details!

), or simply dispose of down the drain.

Using 2 large spatulas like tongs, carefully transfer chicken onto a serving platter or cutting board.  
Cook times will vary depending on the size of your chicken and crockpot. The above times were based on a 6lb. Chicken. When in doubt, allow chicken to roast in crockpot on low or medium heat and check hourly after 4 hours for small chicken or after 5 hours for larger chickens.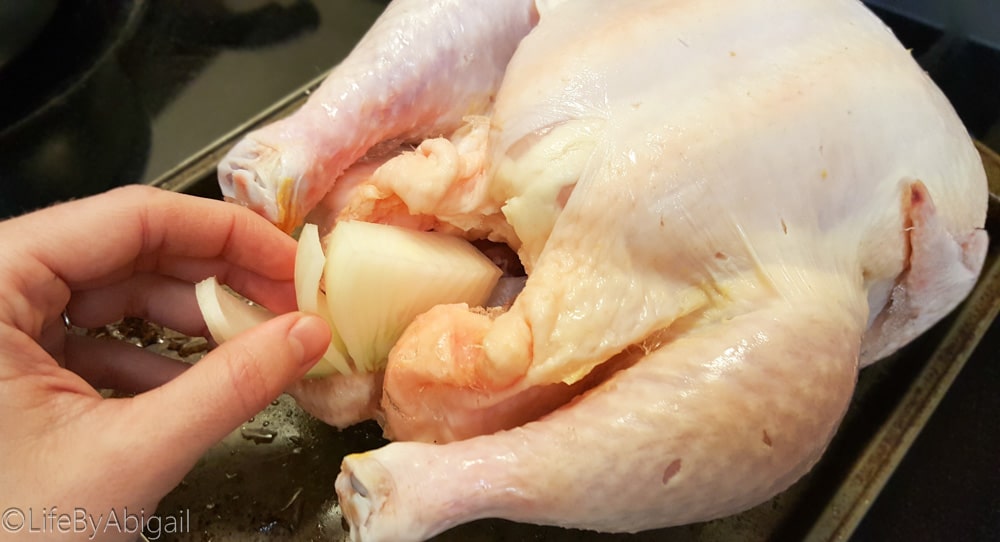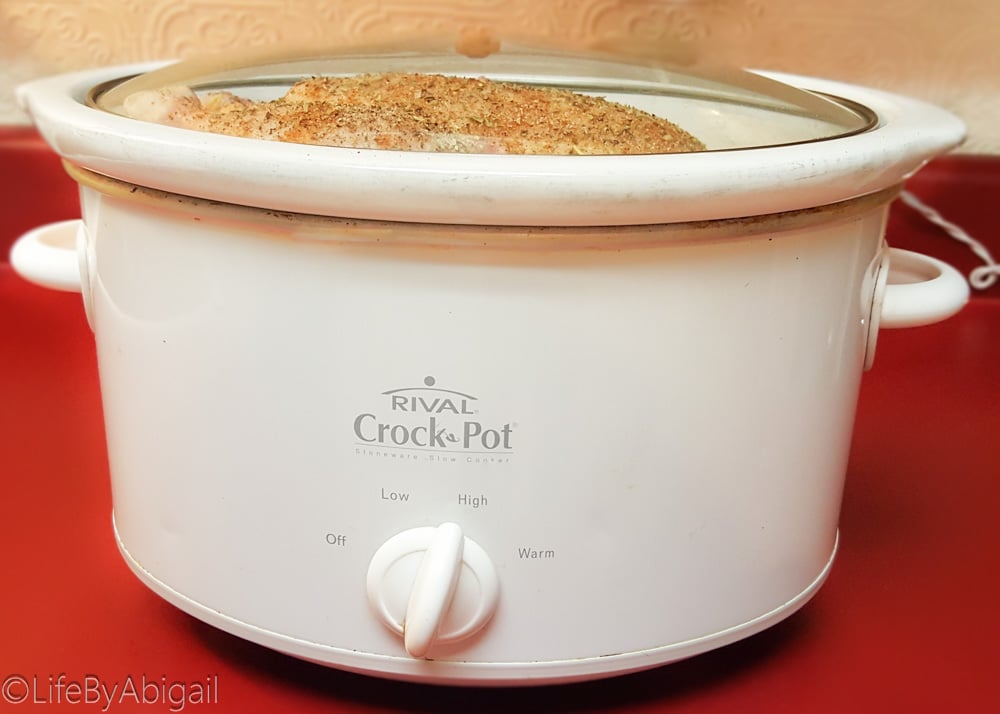 If you've ever looked at the whole chickens  on sale at the store and thought "uhh, that's such a great price, but I don't want to deal with the hassle of cooking it"- this recipe is for you! If you have a newer slow cooker, you may even be able to set your cook time so that your slow cooker will turn off after 7-8 hours. Even easier!!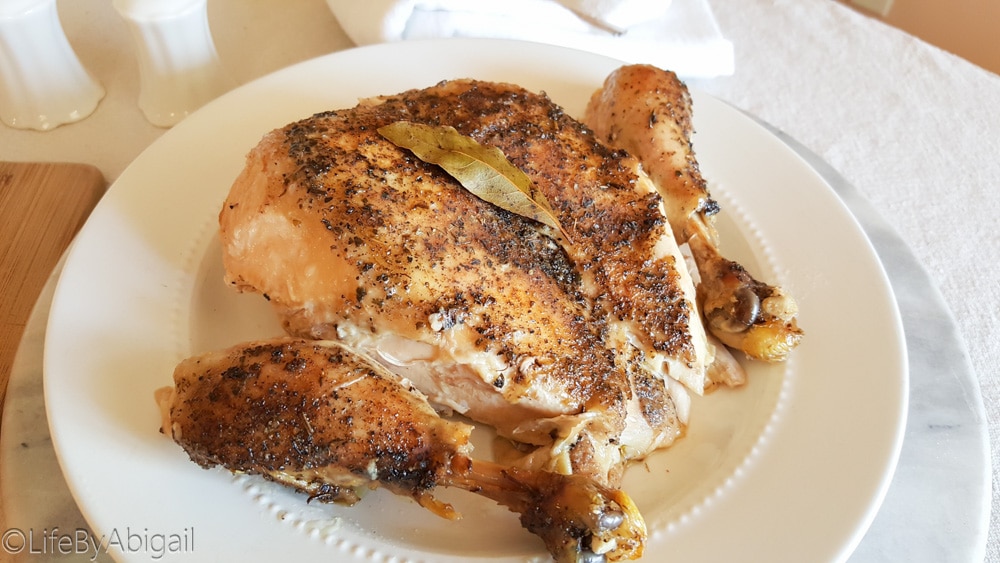 This is a great recipe for Food Prep Sunday! If you're feeling really resourceful, you can even use the chicken bones to make your own bone broth for later like I do in this recipe! 😀 You may also want to check out my tips & recipes for perfectly easy hard boiled eggs  and fluffy gluten-free protein pancakes! Both recipes are great to make ahead and make hectic weeks a little easier!
Bon appetit!
XOXO Abigail