This 2-ingredient pretzel crust is about the easiest semi-homemade crust you can make and it is so much more impressive than a plain graham cracker crust! If you want to add a little extra salty-sweet flair to your special dessert, blitz some pretzels up and enjoy!!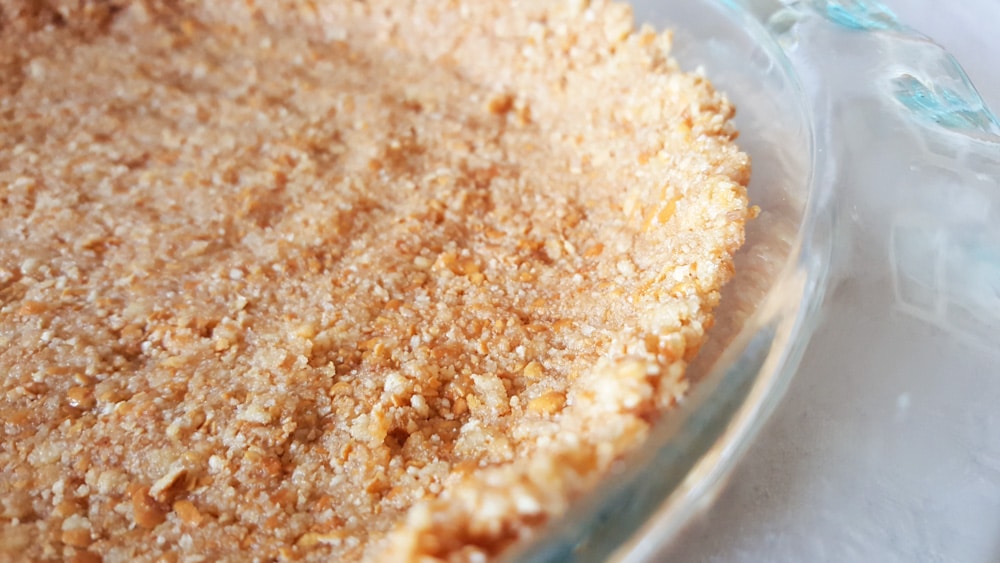 This gluten-free 2-ingredient pretzel crust is for cheesecakes, strawberry or cream pies, or any recipe that calls for a graham cracker crust that you'd like to take to the next level.
In order to balance out the pie/crust flavors, I usually opt for a sweet or fruity filling and make the plain unsweetened version of the pretzel crust to allow the flavors to remain slightly savory. If you're making a pie that is less sweet and more "dark" or savory in flavor (like a dark chocolate cheesecake) you might want to add just a touch of sweetener to the crust!
Note: pretzels vary depending on the brand, so if you're using a different brand of pretzels you may need to add a little more of the ground up pretzels so that the crust won't be too oily! Some pretzel recipes use more flour, or more leavening and binding agents than others, so the results will vary.
Print Recipe
2-Ingredient Pretzel Crust
Ingredients
2 - 21/2

Cups

Ground LiveGFree Mini Pretzels

about 5 cups whole (see the pretzels I used here )*

2/3

C.

Butter

or coconut oil for dairy free

*see my note in blog post about substituting different brands of pretzels

*2 Tbsp Sweetener of Choice

Optional
Instructions
Blitz pretzels in food processor until a sandy consistency is reached, just a few seconds.

Combine melted butter and ground pretzels (usually about 2 cups of pretzel "flour", add a little more if needed depending on your brand of pretzels). Add a little sweetener if desired. Consistency should be similar to wet sand that sticks together.

Press into pan and continue making your pie or dessert as usual.
I usually buy the "LiveGFree" brand of pretzels from Aldi and I absolutely love the flavor of these pretzels! My husband actually prefers these pretzels over "normal" ones because the flavor is so buttery and the texture is light and crisp!
I hope you enjoy this super simple recipe "upgrade" and let me know if you give it a try with any of your favorite graham-cracker crust recipes!  If you'd like more easy dessert ideas, make sure you check out some of my favs like
this dark chocolate cake and fudge frosting!!
😀 Bon Appetit!
XOXO Abigail